TRAVELING ON BORNHOLM
By bus around Bornholm
Bornholm has a very well-developed bus network. Buses run every hour between the main towns and less frequently on Saturdays and Sundays. The courses on the island are operated by BAT (Bornholms Amts Trafikselskab).
There are couple bus companies on Bornholm that organizes thematic tours, for example, for an ecological trip, the so-called green bus to see, among others with an island garbage recycling system.
Artisians Bus can take us on a five-hour trip, during which we will visit the studios of over 20 artists and craftsmen, incl. glass, ceramics, wood atelier and leathercraft workshops. Lunch (Bornholm's smoked herring) included in the price. The tour takes place every Tuesday between June 30 and September 15.
Connoisseurs of local specialties should consider a trip with another bus, called Regional Food Heritage Bus. During the six-hour tour of the island, we will visit several local producers of high-quality food; lunch included.
Taking the Garden Bus, you will get to know the island's gardens and parks.
On Bornholm, you can use an air taxi operating within the island's borders (cruise flights on request; DanTaxi).
Connections to the Ertholmene archipelago are maintained by Christiansøfarten / Bornholmekspress (cruises to Christiansø and Frederiksø). Ferries depart 1-2 times a day from Gudhjem (50 min).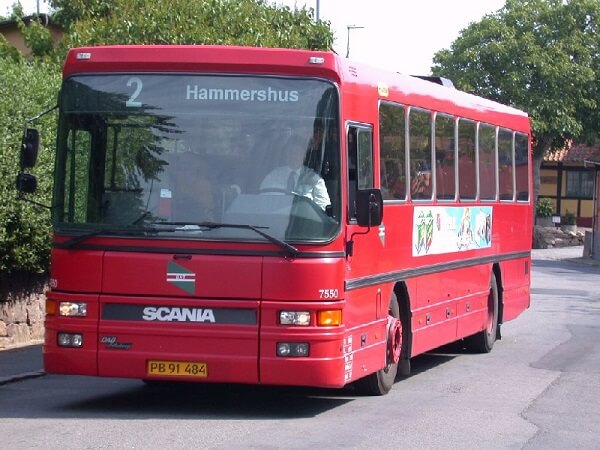 Bornholm by car: :
On Bornholm, if not every resident, practically every household now has a car, although many islanders prefer two-wheelers, especially bicycles. Even after Rønne - incl. due to its size - it is easier and faster to ride a bicycle.
On the other hand, having a car, we can visit Bornholm quite well in a very short time. The fuel on the mainland should be enough to drive around the entire island and reach most interesting places. However, if it is not available, you can use Bornholm's petrol stations. They are located in Rønne and in Allinge.
Car rental:
On Bornholm, apart from bike rentals, there are also car rentals, which are an alternative for people who want to explore the island on their own in a short time.